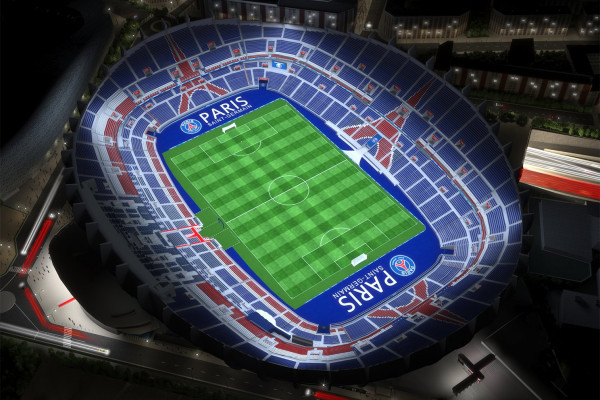 Walk in the footsteps of the heroes of Paris Saint-Germain, from the top of the stands to the subs' bench, from the VIP boxes to the conference room, including the mixed zone, the changing room, the Presidential box and the fabulous trophy wall... The Parc des Princes as you've never seen it, for a fun, immersive and world-unique visit.
Duration: 01:10
Paris Saint-Germain reinvents the stadium visit by offering you this fun, immersive and unique tour.
Discover emblematic, secret places and share your emotions throughout the visit.
A 1h10 guided tour behind the scenes of the stadium: from the top of the stands to the subs' bench, from the VIP boxes to the conference room, from the mixed zone to the dressing room...with the trophy room as the highlight!
A fun, accessible, multilingual tour which is open to everyone and which will will thrill fans, enchant tourists and amaze young and old alike.
Free visit for children under 5.
Included

- The visit of Parc des Princes

- Access to the trophy wall and the immersive exhibition (HISTORY ROOM)

- The application audio/video guide

Languages
German, English, Spanish, French, Italian, Japanese, Arabic, Chinese, Portuguese
Opening hours
Important information

- PLEASE NOTE : When you arrive at the stadium, you will be asked to present 2 documents: Ticket check + Check of the vaccination pass. In order to facilitate the inspections and to gain quicker access to the stadium, it is strongly suggested that you upload your vaccination certificate on the TousAntiCovid application.

At the Parc des Princes, as in your daily life, respect of the protective measures is required:

- Wearing a mask is mandatory in all parts of the stadium

- Maintain a distance in the stadium walkways and queues

- Wash your hands often with soap and water or with a hydroalcoholic solutionUse single-use tissues and dispose of them in the appropriate waste bins

- 

To enjoy the best of the Stadium Tour experience, you can already download the PSG Official application to access the Audioguide section in "Services at the Stadium" (visible from July 1st, 2019).

App available on the App Store and Google Play download platform.

NB: The audioguide content will be available from the entrance of the stadium thanks to the WIFI Parc des Princes.

And do not forget to bring your headphones or headphones to enjoy the audioguide!
Venue
Access to the Stadium Tour is at the main entrance of Parc des Princes.
Le Parc des Princes
24 Rue du Commandant Guilbaud, 75016 Paris, France
8-minute walk from Porte de Saint-Cloud metro station (650 meters)
Offered by
PSG Experience
75016 - Paris