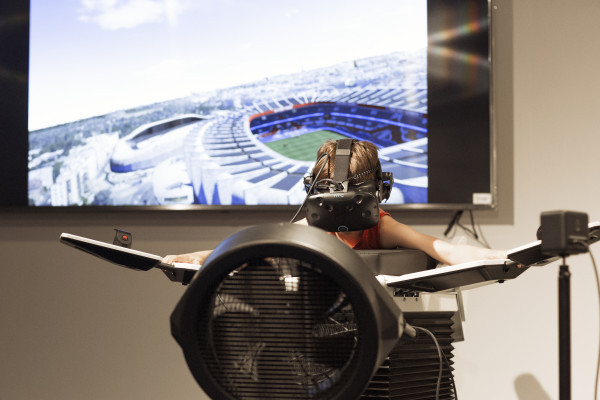 Train with Thiago Silva, put on Alphonse Aréola's gloves, stop Neymar's shots, fly over Paris, and relive great games in 360° video. Everything becomes possible in this new type of game room. Dream bigger in VR! (Virtual Reality)
Exclusive content in the Paris Saint-Germain universe.
Simple, fun and multi-player activities, blending games and technologies.
Everything becomes possible in this Virtual Reality arcade room.
Benefit from the best of immersive technology to experience the daily life of the club's heroes.
The VR experiences are available for 6 years and up.
Included

- Put on Areola's gloves in GoalKeeper

- Fly over Paris with the Birdly

- Dive into the heart of the stadium with the Match Experience VR

- And also: Racket Nx, Beat Sabber, Holofit, etc.

Languages
English, French
Opening hours
07/22/2019 – 07/22/2022
Daily 10:00 - 20:30

Venue
Access to the Arcade VR is at the Megastore.
Le Parc des Princes
14 Rue Claude Farrère, 75016 Paris, France
8-minute walk from Porte de Saint-Cloud metro station (650 meters)
Offered by
PSG Experience
75016 - Paris